What Is Penthrox and How to Use It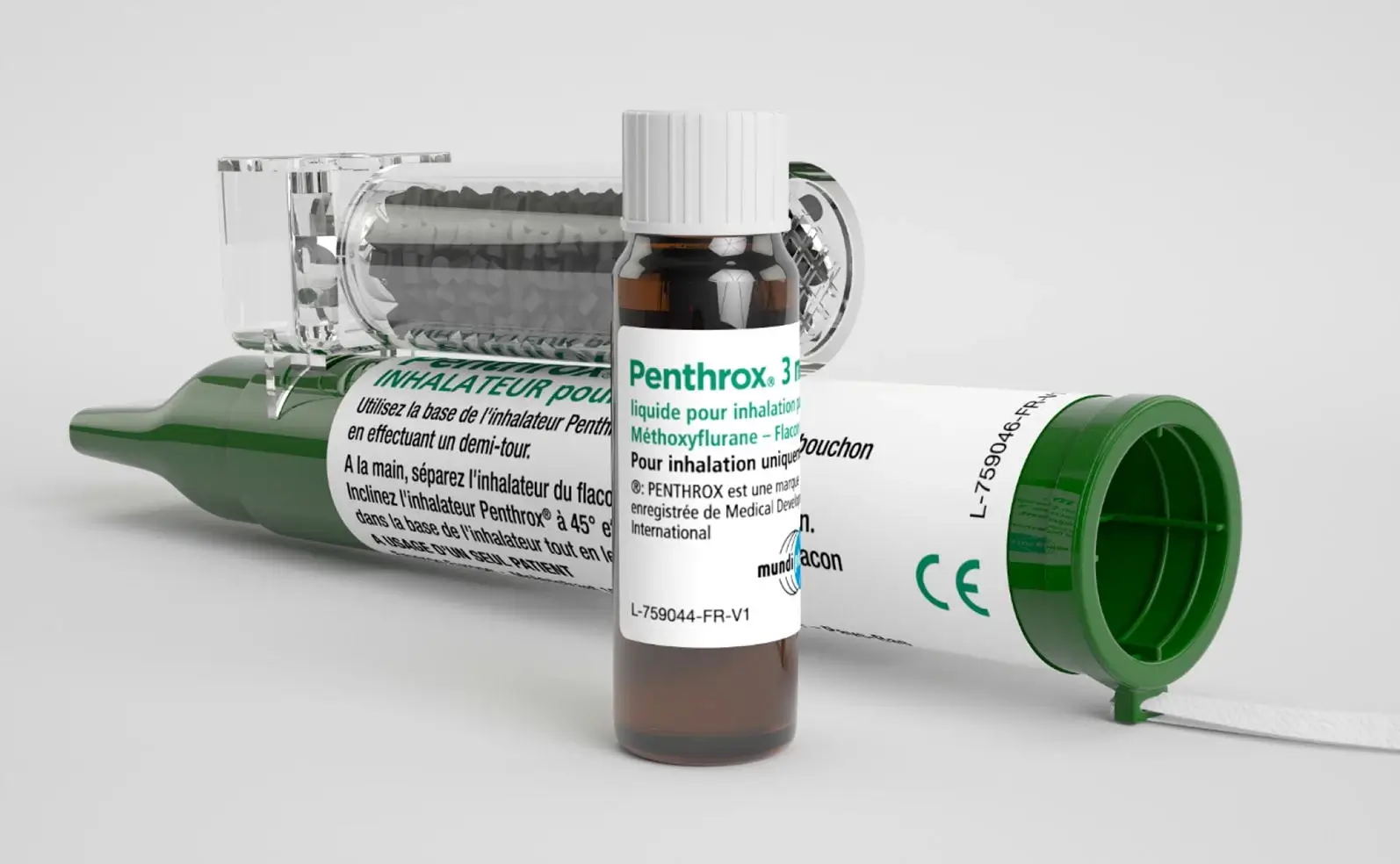 What Is Penthrox and How to Use It
Penthrox is one of the most common inhalation anaesthetics in Australia, but what exactly is this drug — and how and when should it be used? Keep reading below to learn more about what is in the green whistle and how it works as a potent pain management drug.
Penthrox: What you need to know
Penthrox is a fast-acting, pain-reducing drug that contains active methoxyflurane, an inhalation analgesic. It is used by paramedics, medical professionals, defence forces and other individuals who may have to administer quick and potent pain relief to a patient in need. It has been used in Australia for nearly 50 years.
What is Penthrox used for?
While Penthrox does not eliminate pain, it is a powerful pain management tool that can reduce the severity of pain after a traumatic injury or during medical or dental procedures. However, Penthrox is not appropriate in every scenario; so what is the green whistle for pain used for? It is primarily used by ambulance services, the Australian and New Zealand Defence Forces and medical practices as a short-term emergency analgesic.
Is Penthrox dangerous?
Penthrox is a non-opioid alternative for pain management and can also be used in place of nitrous oxide (also known as laughing gas) and is generally safe for use. However, it should be avoided if a patient:
Is allergic to methoxyflurane.
Has a history or has a family member with a history of malignant hyperthermia.
Has reacted badly to inhaled anaesthetics in the past.
Has liver, kidney, heart or circulation problems.
Is unconscious or having difficulty breathing.
Excessive or prolonged methoxyflurane inhalation can be dangerous and may cause kidney damage. Additionally, there are several side effects associated with Penthrox, including allergic reactions, liver problems, difficult breathing, loss of appetite, vomiting, changes in urination, dizziness and more.
How to use a Penthrox inhaler
The most common method of ingesting Penthrox is with a Penthrox inhaler, also known as the green whistle. The Penthrox inhaler should only be administered by a medical professional, who should follow these steps when administering Penthrox to a patient.
Administering Penthrox — Using the green whistle
Always read the product information attached to your green whistle before giving it to a patient.
Prepare the inhaler. Insert the Activated Carbon Chamber (AC) into the diluter hole. Tilt the inhaler up and pour one bottle of Penthrox into the base.
Place the wrist loop over the patient's wrist.
The patient should breathe in and out normally through the mouthpiece whenever they need pain relief. For more potent pain relief, the patient must cover the dilator hole with a finger while continuing to breathe in and out.
When no pain relief is needed, do not breathe through the inhaler; taking occasional breaks will make the relief last longer
The patient should stop using when they've reached the maximum recommended dose or when told to stop by the medical provider.
After use, place all the used components, including Penthrox bottles, into the sealed plastic bag and dispose of them.
Penthrox FAQs
What is methoxyflurane?
Methoxyflurane is an inhaled anaesthetic drug that is the primary ingredient in Penthrox green whistles.
What is the Penthrox green whistle?
Penthrox is a brand name given to methoxyflurane; the green whistle is a means of administering Penthrox to a patient to assist with pain management.
What is a Penthrox inhaler used for?
The green whistle is used to quickly reduce pain in patients who have experienced a traumatic injury or undergoing painful procedures.
What does the green whistle do?
Penthrox (methoxyflurane) works by affecting the central nervous system to help reduce pain.
How long does Penthrox last?
Penthrox is a fast-acting drug. Relief will begin shortly after starting the drug and will stop when you are no longer using the inhaler.
What does Penthrox taste like?
Penthrox is well known for its fruity smell and subsequent sweet taste. To become accustomed to the taste, a patient should take several gentle breaths with the inhaler before breathing more normally.
Do you need a prescription for Penthrox?
Yes. You must have a Penthrox prescription and be under medical supervision to use this drug.
Who can use a green whistle?
Only those who have been prescribed Penthrox should use the green whistle. Do not use Penthrox if your doctor or healthcare provider has not prescribed it to you.
Where can I find Penthrox?
Here at Mega Medical. We carry several Penthrox products manufactured by Medical Developments International. We source our Penthrox from trusted suppliers such as MDI to ensure that you receive safe, high-quality products every time.